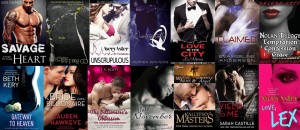 Intrigued by the erotic romances you keep hearing about but have been holding out till they have a price drop?
Ka boom! Here's your chance!
Grab your debit card and get ready to 1-Click the hell outta these books because it's a flash sale that's so quick if you blink you'll miss it!
Be sure to enter our Rafflecopter at the bottom to win some GREAT PRIZES too! It's a win-win for you! WOO HOO!
Selena Kitt's NOLAN TRILOGY
JUST $0.99
PLUS MORE GREAT DEALS FROM:
Avery Aster
Pepper Winters
CD Reiss
Shay Savage
Aurora Rose Reynolds
Beth Kery
Liv Tyler
Lauren Hawkeye
Sara Fawkes
Sarah Castille
Evangeline Anderson
J.S. Scott
Kallypso Masters