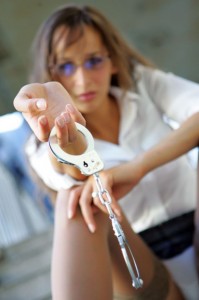 Heads up authors: Amazon is targeting erotica again. This time, it's "Dark Erotic Romance" (read: DubCon and NonCon) and BDSM. I hate to say I told you so – but I told you so. I said, back when Amazon caved and stopped carrying the ped0phile's guide, that we were heading down a slippery slope. I said it again when my own work was first banned from Amazon. I've been saying it and saying it, and the slope just keeps getting slipperier. And not in a good way. 
Now Amazon has started filtering and banning BDSM simply for being BDSM. For some books, it's all about perception. Titles with obvious references to abduction, kidnapping and reluctance are being culled. Descriptions with those identifiers are also being removed. And of course, covers are being targeted, now including things specific to domination and submission–chains, ropes, handcuffs, all the markers of the genre, may get a book banned.
When my original incest books were banned and many romance writers said, "Oh it's just taboo stuff? Well that's okay, then, I don't write that…" I warned the erotic romance community that it could be their niche next. Dark Romance as a genre has started to heat up Amazon's bestselling charts from Deviant to Tears of Tess, featuring heroes who have a dark edge, but some books have apparently gone too far, according to Amazon's ever-changing guidelines. Lily White's Her Master's Courtesan was outright banned on Amazon. Recently, the dark romance boxed set, Bend, was banned as well. Why? In these cases, it was likely enough customer complaint to warrant Amazon checking out the book and deciding that the line between consent and "dubious consent" was just too close for their comfort. Of course, this is conjecture, because Amazon won't ever tell us what is and isn't acceptable.
But this isn't good news for erotica or erotic romance writers, that's for sure. We're all standing on very shaky ground with Amazon and the line just keeps moving. It isn't easy to negotiate or find your way through the morass that has become self-publishing erotica on Amazon. Unfortunately, they still have the largest market share, so it makes the most financial sense to figure out a way to keep your books visible. To do this, you have to keep your fingers on the pulse of Amazon's ever-changing, unwritten "policy" and respond accordingly.
This will, of course, lead to a lot of self-censorship over time, which I'm sure is the point on Amazon's part, because erotica writers won't want to pay cover artists to re-do "inappropriate" covers and they won't want to write books that readers just can't find on the behemoth retailer. And dark erotica and dark erotic romance just seems to be upping the ante with every book, with heroes who are complete mysogynists, from drug dealers to human traffickers to violent criminals. Granted, the hero (usually) turns things around, driven by his love for the heroine, but the stakes are getting higher, the drama is getting stickier, and the darkness in these books is getting, well, darker. In the end, dark erotica/romance may have to go back underground, or at least be a little more careful in its presentation, if Amazon has anything to say about it. And, as usual, if a customer complains, Amazon will likely shoot first (by banning a book) and ask questions later (or not at all).
So what is a BDSM/dark erotica/erotic romance author to do?
What May Now Get Your Book Adult Filtered
Besides the list I updated recently, we can now add:
Words like reluctance, kidnapping, abducted, captured, master, slave and any other variation in the title or description MAY subject you to the ADULT filter. This is, of course, subject to Amazon's arbitrary enforcement.
Covers that contain elements of bondage, including whips, crops, handcuffs, chains etc., as well as heroines who look as if they are scared or in pain, may kick on the ADULT filter.
What May Now Get Your Book Blocked/Banned
In addition to the original list:
Content that involves rape for titillation, as well as nonconsent (even if the heroine ends up in love with the rapist at the end), dubious consent (where the heroine is being forced but clearly is physically enjoying it) MAY be subject to banning/blocking. Content that involves snuff (a character being killed during/after sex) will almost surely elicit a ban. (The bad news about this is that Amazon no longer will put a book back to "draft" status and allow you to change it. If a book is blocked, and you want to change it, you have to resubmit as a new book with a new ASIN. Unfortunately, this is disastrous for books that are doing very well in rankings.)
Covers that contain elements of bondage, including whips, crops, handcuffs, chains etc., as well as heroines who look as if they are scared or in pain, may ALSO get your book blocked or banned, depending on the Amazon reviewers' mood.
Enhanced Adult Filter
Authors have noticed a new feature on the KDP dashboard asking for appropriate reading ages for your book. Great news for authors of kids and YA books. The hope, of course, is that Amazon is creating a "safe zone" for kids, right? But there's another feature that's popped up in the past few weeks that is a little alarming for erotica authors under the ADULT filter. Now, when your book is filtered, not only does it not appear under an "All Department Search," as well as showing up very last in any search results in the Kindle store, regardless of title or keywords – it now doesn't even show up in the Kindle Store initial search results. Now a reader has to click the "excluding adult items" linkin order to see an ADULT filtered book. (see screenshot below)
In lieu of this new development, it's becoming more and more important to keep your erotica and erotic romance books "clean" on the outside, even if they're dirty as can be on the inside, in order to avoid the ADULT filter. Hopefully (I'm crossing my fingers) this new age requirement will be a boon for erotica writers, creating a "safe zone" for the kiddies, while allowing adult readers to still find what they want. Your book(s) should be fine as long as you can keep them out of the erotica Red Light District!
And if you're a BDSM or dark romance author afraid your book(s) will be filtered, blocked or banned, all is not lost. You can navigate the choppy Amazon waters and hopefully allow readers to find your book. Unfortunately, I still predict storms ahead on the horizon, but I'll definitely keep an eye out for all of us. I know we can ride them out together!